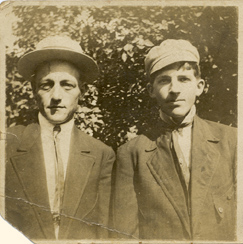 From the collection of Delbert Campbell.
This photograph appears on a postcard that was sent to Delbert's mother, Ollie Cordell Campbell. Written on the back is a short note signed "Morris". We're wondering if one of these young men (particularly the man on the left) is Maurice Yetter, whose name was pronounced "Morris". His name also appears in some newspaper articles with the latter spelling.
Contact Marcia
& Hancock County ILGenWeb
Return to Gallery 2 Index
Select Another Gallery of Photographs
Hancock County Main Page
You are our [an error occurred while processing this directive] visitor since 06 November 2001.