Hancock County Illinois Genealogy and History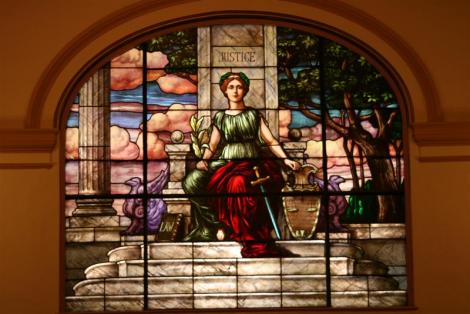 Lady Justice in the Hancock County Court House
This site is currently up for adoption!

For more information: ILGenWeb Project Adoption Information

To adopt this county please fill out our contact form.
Hancock County was created on January 13, 1825 and was formed from Pike County. County organization was completed on January 15, 1829. Present area, or parts of it, formerly included: Attached to Adams County (1825–1829), Pike County (1821–1825), Madison County (1812–1821) and St. Clair County (1795–1812).
Named for John Hancock, a prominent figure of the Revolutionary period, a Major General of the militia, President of the Continental Congress, first signer of the Declaration of Independence, and first Governor of the State of Massachusetts. The County Seat is Carthage (1833-Present).
Hancock County Townships include Appanoose, Augusta,Bear Creek, Carthage, Chili, Dallas City (Formed from Pontoosuc in 1860), Durham, Fountain Green, Hancock (Formed from Fountain Green and St. Marys on April 27, 1855), Harmony (Formed from Carthage and Chili on September 12, 1854), La Harpe, Montebello, Nauvoo, Pilot Grove, Pontoosuc, Prairie (Formed from Montebello and Carthage on September 12, 1854), Rock Creek (Formed from Sonora and Pilot Grove on April 27, 1855), Rocky Run, Sonora, St. Albans, St. Mary's, Walker, Warsaw (Included only city of Warsaw after November 15, 1855), Wilcox (Formed from Warsaw on November 15, 1855), Wythe Townships.
Cities, Towns and Communities include Augusta, Basco, Bentley, Bowen, Carthage, Dallas City, Elvaston, Ferris, Fountain Green, Hamilton, La Harpe, Nauvoo, Plymouth, Pontoosuc, Warsaw, West Point.

Discover What's New -- Visit Hancock County "Treasure Chest"
Hancock County Genealogy Records
Neighboring Counties